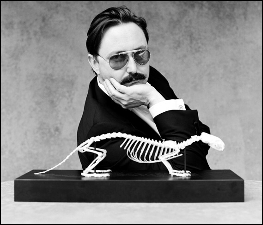 "These sports are the opposite of the second type of sports, THE SPORTS OF SOLITARY PERSONAL PERFECTION. These are intensely physical sports that are profoundly antisocial and nerdish. While I cannot actually participate in these sports, I can certainly understand them, because you are not forced to talk to or work with anyone else, no one ever sees you naked, you get to wear goggles, and, as in most nerd pursuits--including ROMANCE--your true opponent is really yourself.
"For example, there is very little difference between an obsessive weight lifter and a man who spends his day painting lead figures of orcs.
"Just as there is little difference between the Ironman triathlete and the man you breaks the world high score in GORF: Both require that the participant endure endless hours of completely isolated training, never seeing his or her family, in pursuit of a goal that may be personally transcendent but is ultimately arbitrary and meaningless. At least GORF doesn't make your heart explode.
"Other sports that fall into this category are ...
RUNNING FOR NO GOOD REASON
GYMNASTICS
NON-BAR BARCHERY
BOWCASTING
FREE DIVING
RUNNING ON A TREADMILL LIKE AN ANIMAL"