Silver and Sparkly White!
Since it was getting down to the wire with my costume last week, I developed a back-up plan by having a set of bracelets and tiara that I could wear with any of my work out gear. You can expect to see this set frequently in pictures for virtual races. I have also joined
Team Tough Chik 2013
; one of the requirements is to wear the shirt in an official race, and these will be part of that particular uniform.
Can we talk a minute about Katie of
Groovy Baby Action Gear
? First off, her stuff is cute and affordable. Secondly, she does custom jobs and ships super quick. Thirdly, she's got a definite WW vibe going. Finally, she's just massively adorable herself.
Christmas stars (for me, at least)
One of the things I learned from this last race is that I really ought to be better prepared for the cold, and running sleeves are a viable solution. For my Christmas races, I've ordered a set of white stars on red that I will wear with the tank. They are amazingly comfortable (and nicely hold in the batwing arms).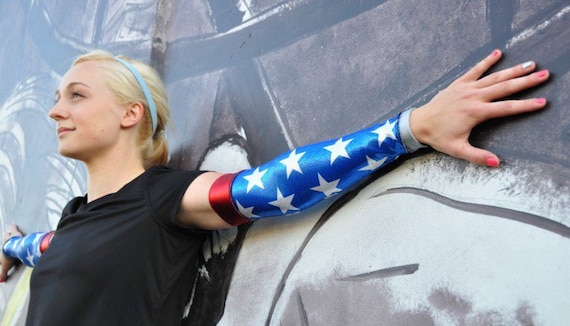 Matching the skort
As a second cold weather/mid-season option, I will probably get a set of arm warmers that match my skort. (I've been considering a
matching Bondi Band
as well.)
I've been tickling her ear for other variations. For the
Electric Run
, she and I have been talking about options for a tiara and bracelets that will glow in black light. For the
Color Me Rad
race, we are both thinking white tiara and bracelets with sparkly red star to best capture all the color.
Speaking of Color Me Rad, registration for the
Houston run
is now open for a reduced fee. Several people have expressed an interest in joining me on this; I will be running in the 9:20 wave, and you can run independently or join Team Chunky Wonder Woman (my feelings will not be hurt one way or another).
But that's not all! I've spoken with the above-mentioned Katie, and she's willing to cut you a deal just for putting up with my blathering! If you order something from
her shop
and use the code
noticeablyfoxed
at check out, you will get 15% off your order!!!* If you're joining me for Color Me Rad, you can get a set to match mine. Or design your own. Or grab one of the cute designs already there. You don't even have to run--they're good for cycling or even just layering for every day.
I know I sound like a commercial; but I like what I like, and I like to share! Seriously, go check out
Groovy Baby Action Gear
and buy handmade!
* This is really the only Web presence I have that doesn't have some kind of fox theme to it. Long story.