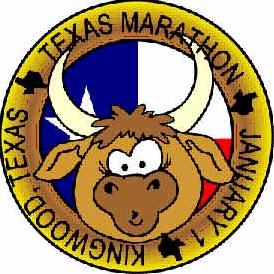 Finish Time:
03:15:19
Charity:
Marathon Challenge
Running Momma said this was the one to do.
Yes, it kinda blows to party and drink less on New Year's Eve. Yes, it's kind of mean to drag the family out at the buttcrack of dawn and drive for an hour to the site, and then set them free for several hours while I put myself through pain.
But it's totally worth it, and here's why:
1. The Course:
It was gorgeous. It had the benefits of a trail run with trees and a lake while being paved and flat. It was twice around the loop for half, four times for full. The trail was not super narrow, although there were times when I had to negotiate passing people. A good portion was two-way, but there were sections of one-way; for me, that meant a nice balance--I didn't feel as lonely as I usually do at races, but there were times where I had more space when I was feeling "peopled out."
2. The Runners:
What a nice group of people! The race is populated by both full and half marathoners, and everyone was so encouraging of one another! Since you have to make so many loops, you end up passing people several times. This is where it helps to be wearing a Wonder Woman costume--people naturally want to cheer on a superhero.* At one point, I was behind a couple women, and they kept wondering why people were singing out, "Wonder Woman!" until they looked behind. I even paused to take a picture with a guy in a kilt because he liked how our skirts went together.**
For the love of Hera, do not turn around.
There's always the hard core scary person who's balls-to-the-wall, and yes, that was present. But there were a lot more people who were slow, who walked, who were enjoying themselves. That alone made the whole experience really cool.
There was also the shirtless guy in creepy shorts, but that's to be expected.
3. The Organizers and Volunteers:
At first glance, this seems like a small-time operation (the participation caps at 700, which is why I was on a waiting list). But these folks have been doing this for 15 years, and the kinks are pretty well worked out. Communication was good. The flow of packet pick-up was great.
Water stations were at about every mile and a half, and one station had gummies, pretzels, and tissues, which I really needed toward the end! Pizza at the finish started at 10AM and was delivered every hour, so there was plenty for all.
Don't be dissuaded by the aol e-mail--these folks know their stuff and run a great event!
4. The Spectators:
Since this is sort of a neighborhood event, there were lots of folks on the way cheering us on with funny signs. Should have gotten a pic of the "Run faster--I farted!"
5. The Stuff:
It should be enough to get a squeezie elephant with my place written on it, as well as a HUGE medal (1.1 lbs for the half, 3.3 lbs for the full). But the swag bag was a
nice
travel bag (complete with laptop carrier), water bottle, wicking cap (which I love), and beanie (which I've been needing).
As for my performance, I kept a pretty good pace through mile seven. Mile eight, the joints of my toes started to really hurt. Mile ten, I became emotional, as that had been my longest distance so far and the distance left was my original goal. Mile eleven, my hips started to hurt; actually, most everything started to hurt. It hurt less to run, but I was so tired I couldn't keep it up. Sheer will at that point--I can't imagine doing another two laps.
In the meantime, those same runners who still had a way to go were cheering me on.
Even though I ate a good breakfast and used fuel, I was HUNGRY by the end. At the same time, I was having some digestive issues; I didn't hit the porta-potty during the race, but I needed it pretty badly afterwards. The pretzels earlier on really helped.
I snoozed a little on the drive home. I had a good soak in the bath (which I think will be a habit for anything 10 miles or more) and a long nap. It got rid of the post-race shivers and settled out my stomach. I'm still very sore, but I'm feeling a little recovered and now want to eat ALL THE THINGS.
Just now it's beginning to sink in this thing I've done. It's kind of cool. I may even do it again.
Happy New Year!
*Although a couple people called me Super Woman, bless their hearts.
** Dude, I had to leave before you finished. Find me and share the photo!